On 12/04 we welcomed this handsome colt by Taloubet Z x Canadian River
Meet Toivo d' Oxerhoeve Z!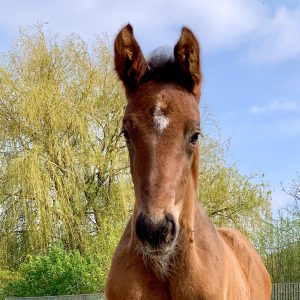 His father Taloubet Z under Christian Ahlmann won practically everything there is to win.
Taloubet Z was ahead of his time and was faster, more reactive and had more capacity than nearly all horsey colleagues from his generation. With Christian Ahlmann in the saddle he won more than two million Euros and that was at a time when events were not as highly sponsored with prize moneys as in this day and age! This combination won the World Cups of Leipzig, Stuttgart, Mechlin and Madrid. They won in Calgary, Gothenburg and Barcelona and secured the Bronze medal at the Olympic Games in Rio de Janeiro. There's no competition in the world he hasn't seen, no jump-off too fast. That speed and agility coupled to his capacity shaped Taloubet Z's strength and these assets are amply passed on to his offspring. The list of international sons and daughters by Taloubet Z is growing by the day. Take a Chance On Me Z, Tabalou PS and dozens more take over the baton and go on to reinforce their father's inheritance in the sport!